Learn more about our story.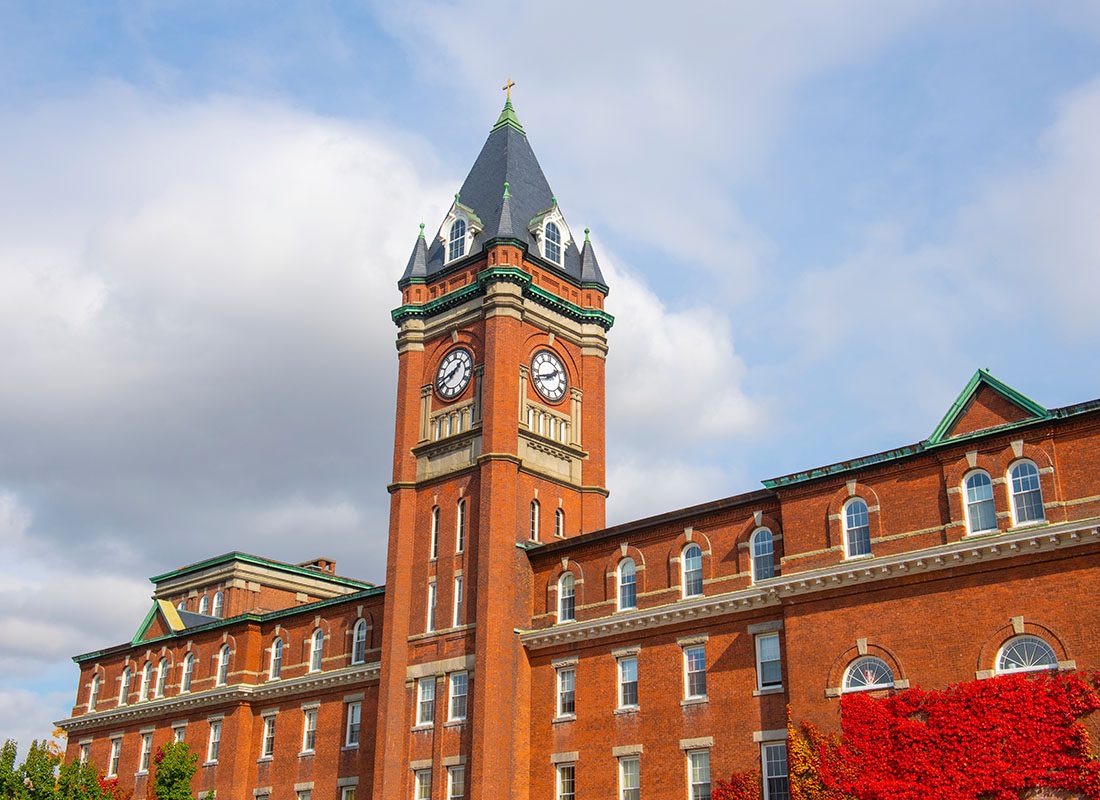 Our agency's history starts in 1926.
Where it all began.
In the 1920s, Roy Gaudette was just a young man—with polio. But Roy was determined not to let disability prevent him from living a worthwhile life. He opened the Gaudette Insurance Agency near Grafton Common in 1926 and began writing auto insurance policies for friends and neighbors alike.
The birth of a family business.
Roy's initial success convinced younger brother Gerry that there might be a future in insurance. At the age of 16, Gerry Gaudette, Sr. set up his own agency in the Rockdale section of Northbridge and both businesses flourished.
Around this time, their sister, Doris, joined to help. In 1938, she married Vincent Choquette. Since our clients' wages were paid in cash, she often accepted premium payments at church on Sundays. She remained a key employee for over 35 years until her death in 1968.
When Roy passed away 1945, the two agencies were merged, and became known as Gaudette Brothers until our incorporation in 1955.
In 1962, Gerald Gaudette, Jr., armed with a college degree in insurance from the University of Pennsylvania, joined his dad and dedicated himself to expanding the business throughout the Blackstone Valley. Over the years, Gerry oversaw more than a dozen acquisitions of other agencies and a steady growth of the business. By the 1980s, Gaudette Insurance had become the largest insurance firm in the Blackstone Valley.
A legacy of service.
Gerry Gaudette passed away in September of 2003, leaving a legacy of community service, sound financial management, and the ability to see the larger Blackstone Valley picture. "He was the first to look at the Blackstone Valley as a distinct entity," recalls Gerry's son Lee. "He was trying to brand and position the Blackstone Valley as a region long before the ideas came into vogue." And Lee's goal is to carry on his father's vision.
A new generation.
With a degree from Tufts and an MBA from Babson, Lee Gaudette joined the firm in 1990. Starting as a commercial account executive, Lee worked his way through the ranks, moving to sales manager in 1996, vice-president of sales in 1997, and ultimately president of the agency in 1999, becoming the third generation of Gaudettes to guide the agency.
"When you take the helm of a successful family business, you gain a deeper sense of responsibility that extends beyond yourself," says Lee. "My father built a simple business model for the agency that continues to be the company's guiding principle. He liked to say, 'always put our client's interests first, and they will reward you later."
Rapid growth over time.
In the sixteen years that Lee has been at the helm, two additional agencies have been acquired and revenues have nearly doubled. Lee attributes much of his success to his father's business model, and education, and to Frank Bartucca, who served as president of the company from 1995 to 1999. "Frank played a key role in my development, helping me make the transition from sales to financial management, client and carrier relations, and finally executive functions." Bartucca joined the firm in 1979 and was recently recognized for 25 years of consecutive service.
Where we are today.
Among Blackstone Valley businesses that began in the 20th century, Gaudette Insurance stands at the top, both in terms of financial success and the legacy of service the organization provides to the Blackstone Valley community.
Gaudette Insurance Agency has been recognized both by the Independent Insurance Agents of America as a "Best Practices" agency—one of the top 30 agencies nationwide for customer service, growth, stability, and financial management and by the Massachusetts Association of Insurance Agents with the prestigious Five Star Award of Distinction.
Great-Uncle Roy would be proud.
Step 1

Fill out the form.

Step 2

Review your options with us.

Step 3

Get the coverage you need.
"*" indicates required fields