Owning a home is a huge responsibility. Maintaining it and taking care of it are essential for its longevity, and you should feel comfortable at all times inside your home. However, unforeseen risks and accidents can occur at any given time, such as burglaries and weather damage. Getting a homeowners insurance policy is one of the best ways to ensure you are protected from the financial burden of covering incident-related expenses on your own.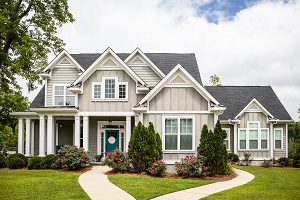 What Is Homeowners Insurance?
A homeowners insurance policy insures your home's structure and your belongings if a covered loss or event occurs. Homeowners insurance policies generally cover destruction and damage to a residence's interior and exterior, the loss or theft of possessions and personal liability for harm to others. For example, theft and vandalism are a couple of common incidents covered by a homeowners insurance policy.
What Is Included in Homeowners Insurance?
Although policies can vary depending on aspects such as location or owner, typical homeowners insurance policies tend to include the following coverages:
Dwelling coverage helps cover costs of repairing or rebuilding damage to the house's structure.

Other structures coverage assists in covering other buildings on the property, such as a garage or gazebo.

Personal liability helps cover injury or damage to others and their property if the policyholder is held responsible.

Contents or personal property coverage helps cover clothes, furniture, electronics and other items in the home if damaged or lost due to a covered cause.
Loss of use coverage assists in covering living expenses in the event of a covered loss, such as temporary housing after a house fire.
If you are interested in learning more about potential benefits to include in your homeowners insurance policy, be sure to contact one of our agents today.
Contact Us
If you live in Whitinsville, Massachusetts, we can help you out. The experienced agents at Gaudette Insurance Agency are here to help you learn more about coverage options and policies so you can make the best decision for your home.
To learn more about getting a homeowners insurance policy, contact a Gaudette agent at 508-234-6333. You can also visit our website for more information. With our knowledge and experience, we can help you make the right choice for your coverage.