Businesses require a lot of time, effort—and money. Costly claims can be damaging, impacting a business's financial ability to recover from an incident. General liability insurance offers the protection a business needs to ensure that a lawsuit or accident doesn't cause a company to suffer monetarily.
Businesses can minimize their risk and safeguard their hard-earned business resources with general liability insurance. At the Gaudette Insurance Agency, our team can help ensure your business has sufficient coverage from harmful incidents.
What Does General Liability Insurance Provi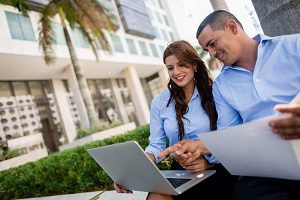 de?
General liability insurance helps cover costly claims that arise during normal business operations. Without coverage, a business might need to pay out of pocket, and this isn't money that all businesses have readily available.
General liability coverage typically includes:
Bodily injury, which may cover medical expenses, loss of services and legal fees related to a third-party injury on the property
Property damage, which may cover physical damage to property of others or the loss of use of that property
Personal and advertising injury, which may cover personal and advertising injuries such as libel, slander, copyright infringement and invasion of privacy
Other Types of Liability Insurance Are Also Beneficial
A variety of different types of liability insurance can be valuable additions to your business's insurance portfolio. These include:
Commercial umbrella insurance can offer additional limits on some of your existing liability policies, which can help pay for expensive claims against your business.
Employment practices liability insurance can offers protection if a current or former employee sues you for employment-related harassment, discrimination or wrongful termination.
Directors and officers (D&O) insurance can protect your business's directors and officers from costly claims.
Supplemental Insurance Is Worth Consideration
General liability insurance doesn't always protect a business from every type of claim, so additional types of liability coverage can be beneficial. For instance, if your company has these types of claims, you may consider these supplementary kinds of coverage.
Work-related injuries or illnesses sustained by employees—Workers' compensation insurance can help pay for their medical expenses and ongoing care costs.
Damage to your business property—Commercial property insurance can help. This coverage helps protect your owned or rented property for your business operations.
Commercial auto insurance can help protect you and your employees on the road if driving a car for business.
Mistakes made in your business' professional services—Professional liability insurance helps cover you and your company if you make a mistake in your professional services. This coverage is also known as errors and omissions insurance.
The cost of your insurance will depend on the types of coverage you choose for your business. In addition, the size of your business, your industry and your location will affect the price of your policy. We can review your risk to determine the types of insurance that offer the best protection for the needs of your business.