All homes are unique. Many times, these are safe havens for family, pets and spending time with friends. These dwellings provide comfort to the people and hold treasured belongings.
Every homeowner needs the protection of home insurance. The right coverage can protect your home and belongings and give you peace of mind. Home insurance can protect you from an unexpected loss if something unfortunate happens.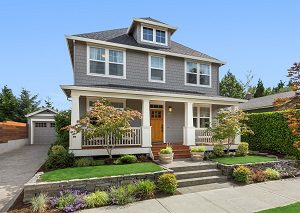 What Is Home Insurance?
One of the most important protections you can secure for your home is adequate homeowners insurance. Whether it's a fire, severe weather, theft, a lawsuit or vandalism, these threats could be costly and a financial hardship without coverage.
Homeowners insurance includes property damage and your liability—or legal responsibility—for injuries and property damage caused by you, your family or your pets. With coverage, you gain these safeguards:
Dwelling coverage may help repair or rebuild the structure of your home after covered damage.
Other structures coverage might cover other buildings on the property, such as a garage or gazebo.
Personal liability might cover injury or damage to others and their property if you are held responsible.
Contents or personal property coverage may help cover clothes, furniture, electronics and other items in your home damaged or lost due to a covered reason.
Loss of use coverage might cover living expenses in the event of a covered loss in case you need temporary housing.
It would be best to buy enough insurance to rebuild or repair your home, minus the land cost. You may want more coverage if you have high-risk items such as a swimming pool or luxury belongings. Standard home coverage is a great place to start, and you can adjust your coverage if your needs change. The Gaudette Agency can work with you to ensure your coverage is sufficient.
Protect Your Home Even More
Supplemental insurance coverage can give you additional protection. We can explore if any of these other coverages apply to your home.
Earthquake and windstorm endorsements
Flood insurance
Pet liability insurance
Replacement value possessions coverage
Scheduled items riders
Umbrella liability insurance
Many home insurance policies won't cover maintenance issues such as termite and insect damage, rodents or mold. We can discuss what you may want to add to protect your home further.
If you plan to finance your home, you may need coverage for final approval on your loan application. Getting coverage as soon as you begin the closing process is a good idea.
A home insurance policy can be beneficial for your home and financial livelihood. You owe yourself this coverage to protect your home and the possessions that you've earned.
There are various types of homeowners insurance, so it's good to know how the policy types differ. The Gaudette Agency can help you explore the ranges of coverage and what would be the most suitable insurance.
This blog is intended for informational and educational use only. It is not exhaustive and should not be construed as legal advice. Please contact your insurance professional for further information.