Business owners may be rightly concerned about protecting the company's financial health. Many business insurance policies are available to help you move on from certain lawsuits, injuries, and catastrophes that could otherwise seriously harm your company. Getting the right types and amounts of insurance can help support your business after an accident or incident that causes damage to your property.
Call the Gaudette Insurance Agency in Whitinsville, Massachusetts today to learn more about the types of business insurance that could help your company avoid significant financial setbacks.
General Liability Insurance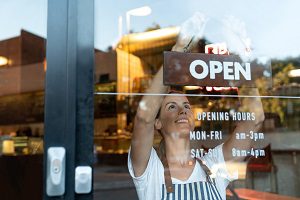 General liability insurance helps businesses pay for damages related to property damage or injuries. You may be covered if you or your employees accidentally damage someone else's property in the course of everyday business.
If someone is injured while visiting your business, the bodily injury portion of your general liability insurance may help pay their medical bills. This portion of your policy also covers lawsuits if someone accuses your business of slander or libel.
Commercial Property Insurance
Commercial property insurance helps protect your company's equipment and building, whether you own or lease it. If there's a storm or other covered event and your building is damaged, this policy helps pay to rebuild or make necessary repairs.
If you have concerns about flooding or damage from earthquakes, talk with your agent about getting coverage for those specific types of events.
Professional Liability Insurance
Professional liability insurance helps cover the cost of a lawsuit if someone claims that you caused them harm by making a mistake. This coverage is also called errors and omissions (E&O) insurance.
Workers' Compensation Insurance
Workers' compensation insurance provides your employees with financial help if they become ill or are injured in a work-related incident. It can also help pay for ongoing care and replace lost wages. This coverage may be required, depending on your state's laws.
Cyber Liability Insurance
Companies that use technology to take orders, communicate with their customers and accept payments are at risk for security breaches that could lead to financial losses. Cyber liability insurance helps cover the costs of lawsuits if a security breach harms customers. It can help support a business by paying for credit monitoring, fines, and legal fees after a malicious software attack.
Commercial Umbrella Insurance
A commercial umbrella insurance policy extends your company's liability limits for specific policies. If a claim is larger than your liability limits, your umbrella policy helps cover the difference.
Commercial Auto Insurance
A commercial auto insurance policy helps protect anyone who drives company-owned vehicles for business. It may help cover bodily injury claims and property damage after an accident. Personal auto insurance doesn't cover third-party claims after an accident caused by a company-owned vehicle.
Get The Business Insurance You Need Today
The policies highlighted here are just a few of your options. The agents at Gaudette Insurance Agency may recommend additional coverage, depending on your company's needs. Contact them today to get help choosing the right types of insurance for your business.